We all woke knowing that it was – sadly - the final day of our journey. The urge was strong to stay in bed to recover from the long days and nights of driving, but a day of sightseeing awaited!
The team agreed to meet at the Arc De Triomphe at 11am where we would grab breakfast and some much needed coffee. Finding a suitable – and legal - place to park three magnificent Tesla Model S cars near the Arc De Triomphe proved more difficult that we had anticipated! After 20 minutes of trying with no success we agreed to drive to Montmartre where we could find a French Bistro and enjoy the afternoon.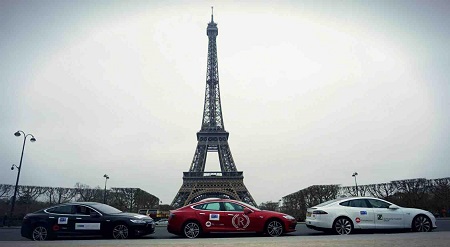 Subconsciously I think we were all sad to leave as we knew it was the final group meal we would have as new-found friends. We shared something special here, turning up at the ESCP London Campus Launch event as strangers to one another and then, seven days (and many hundreds of miles) later, a group of friends who felt as if they had known each other for decades. This is one of the marvellous benefits of being part of the ESCP community and participating in fascinating initiatives organised by the School!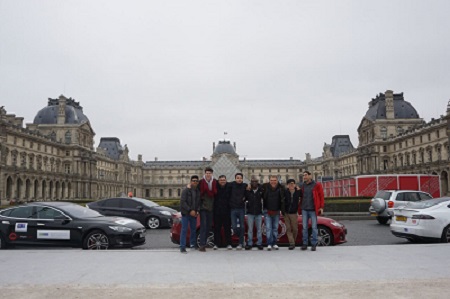 When we prepared to leave Paris, we realised time was not on our side, and neither was the amount of range we had left in the battery following an active two days of sightseeing and giving passenger test drives, all with no immediate Supercharger available to us. The only thing we could do was drive straight to the Calais Eurotunnel terminal which was 285km away, quite a challenge considering our battery only showed 320km in range.
The journey across the channel seemed to pass in no time. As we left the train we started to look for directions to the Tesla Supercharger which we had used when coming to France from Folkestone only seven days before. We were stopped by a Eurotunnel security guard who, to our complete surprise, informed us that we could not use the Tesla Superchargers. Our immediate thoughts were "but it is our divine right to use them - we are driving a Tesla!"
According to the security guard, the reason that we could not use the Tesla Superchargers was because they are only accessible to passengers on their way to Calais. Not, as in our case, for passengers returning from Calais. Regardless of the reasons we had a big problem: Thor and Jupiter had only 12km of range left. The nearest Tesla Supercharger was in Maidstone about 60km away.
After failing to convince the security guard to let us charge we decided that the only option was to call Tesla, the first time we had to reach out to them for their support. The Tesla support staff were as surprised as about the situation, and asked to speak with the security. We could tell the Tesla support staff was trying his best to convince the security guard, but it was in vain. The security guard confirmed that we would not be able to use the Superchargers under any circumstances.
Tesla searched for the nearest 'non-Supercharger' to help us. This type of charger will work, but they take a lot longer and are limited in number. The nearest charging station was 15km away at the Ashford International Hotel. We had no choice but to accept the challenge of driving to this station. All we could do was drive and hope… and that's just what we did.
Just 3km away Thor and Jupiter had reached 0% battery, but somehow we made it to the hotel, relieved that we did not need to phone Tesla again to request a pickup truck. However, there was one more issue: only one of the two charging stations were accessible to us. One station we could connect to directly using the available cables in the car; the other had a connection point that would not fit any of our connection points. This is an issue we started to feel quite strongly about, and the need for standardisation became clear and, for us, very real!

Despite some drama, we are happy to say that we made it back to London safe and sound in our fleet of Tesla vehicles.
The Energy Industry, Climate Change and the Takeaways from the ESCP Electric Vehicle Road Trip
Management skills and innovation are key to overcome the current difficulties in the Energy industry.
Nowadays, climate change represents a fundamental challenge for the energy industry; consequences can be seen across the globe and immediate action is needed. It was fascinating to see the great support for the Electric Vehicle Road Trip from government representatives, media channels, the ESCP community, and the general public.

We have the responsibility of preventing further climate change, and we are ready to make an impact in the industry. The MSc in Energy Management (MEM) programme gave us the tools to see energy in a holistic way and we believe that the industry has a great future!
The conferences hosted during the trip brought together top energy experts and attracted students from other programmes. It was inspiring to see that the ESCP community share our passion for clean tech and contributing to a greener future for all.
Finally, we feel privileged to have put Tesla's electric vehicles to the challenge around the UK and Europe. This one-week trip demonstrated that electric vehicles are perfect for such long-distance travel, and challenged consumer perception.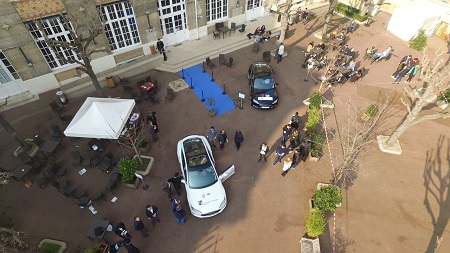 Inspired by the ESCP Electric Vehicle Road Trip? Curious about our next journey? Follow us on Twitter to find out about our next trip! 

Please click here to read day 7 of the ESCP Electric Vehicle Road Trip.