By Kudzayi Ngwerume, Content Editor, Communications EMEA, Greenpeace
''In addition to meeting the immediate environmental challenges that we face, we also need to focus more acutely on the potential economic and societal risks that may arise as transition to a low-carbon and environmentally secure world accelerates,'' 2018 WEF Global Risks Report.
The fossil fuel era is coming to an end. Renewable energy makes business sense and investors are noticing. At the end of 2017, a number of leading international banks publicly announced their intentions to divest from coal. Some of these big names included ING, The World Bank and Axa. And earlier this week Lloyd's Bank of London joined them announcing they would begin ''excluding coal from its investment strategy from 1 April.''
The stakes are high for the future of our planet and as many developed countries battle over how to shift their economies, Africa is well positioned to leapfrog into a low-carbon future.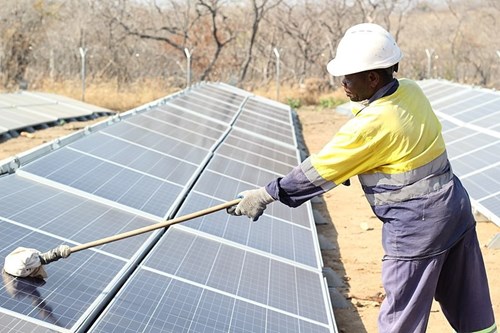 Image: https://commons.wikimedia.org/wiki/File:Cleaning_solar_panel.jpg
Renewable energy set to be cheaper than fossil fuels
A new report has cited that renewable energy is set to be cheaper in fossil fuels in less than two years and a new generation of African entrepreneurs is taking note:
Simba Muhiro's Oxygen Africa is gearing up to install solar energy for Zimbabwe's leading property developer. This project will see around 50MW being installed over 25 years.
Henri Nyakarundi's ARED company is providing last mile solar distribution to communities in Rwanda.
James Van de Walt moved back home to South Africa and set up Solar Turtle, that aims to provide rural and disadvantaged communities with clean energy.
This kind of entrepreneurial spirit is in great supply across Africa, and all that is needed is an environment that enables them to scale up their ideas.
In addition, some governments are waking up to the potential of renewable energy not just as a source of power but as a source of jobs. In Senegal, Africa's largest solar park went online. And in 2017, Kenya opened up the largest wind farm in Africa — "It is the largest wind farm in Africa (and) it has 365 turbines," Carlo Van Wageningen, director and board member at Lake Turkana Wind Power, told CNBC's Sustainable Energy last year.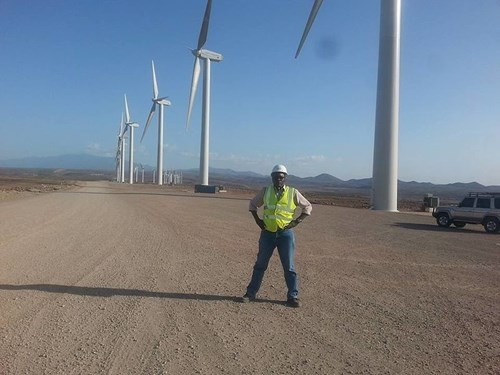 Photo taken at the Lake Turkana Windpower Project Site
All these are encouraging signs and Africa can take a leading role in the world's transition to renewable energy. What's needed is a combination of leadership, business acumen, enabling environments, will and most of all a vision for the future.
Kudzayi Ngwerume is Content Editor, Communications EMEA at Greenpeace & ESCP Executive Master in Marketing and Creativity (EMMK) Alumna.
Useful links:
Greenpeace
ESCP Business School