When put to the vote, Theresa May's Brexit deal was overwhelmingly rejected by Parliament. MPs voted 432 to 202 against the UK Prime Minister's withdrawal agreement - the largest defeat for a sitting government in history. 
Despite May's government surviving a no-confidence vote after this crushing defeat, the UK remains in Brexit deadlock as the 29th March approaches. Much uncertainty still hangs in the air for businesses and individuals.
ESCP has had a strong voice on Brexit. The School launched the Re-Thinking Europe Series - inspired by the late Mme. Nicole Fontaine, former President of the European Parliament - and it has also supported the series of exclusive forums on this topic organised by the French Chamber of Commerce in Great Britain (CCFGB). Our response to this major political challenge was one of the reasons the Times Higher Education awarded the London Campus 'UK Business School of the Year' in late 2018.
In Picture
On 16th January 2019, CCFGB members and organisations from the retail, finance, legal, consulting, tourism, and banking industries came together to discuss the latest on the impact of Brexit on professional services, individuals and businesses.
Speakers were Oliver O'Sullivan (Associate of Gateley Plc) and Gareth Wadley (Partner of Gateley Plc). The event was chaired by Neil Sherlock CBE (Partner, Senior Adviser of PwC).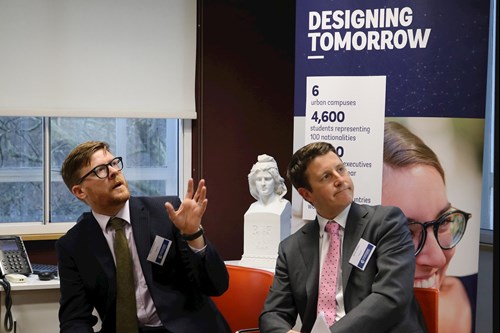 Organisations attending included:
Welsh Government, PwC, Financial Times, Nord France Invest, Atout France / France Tourism Development Agency, Chappuis Halder & Co, Consul Général de France, ebl miller rosenfalck, French Embassy, Talan Consulting UK, Legrand Electric, and many others.
What can employers do to support their EU employees?
Brexit, in whichever form it finally takes, will have a significant impact on employers who have traditionally relied on labour from the EU. At present, political uncertainty and the differentiation of EU workers who have been long present in the UK is a very real issue affecting employee wellbeing.
In their presentation, Gateley PLC's Gareth Wadley and Oliver O'Sullivan highlighted the key changes to be expected in UK immigration law over the next two years, and how these changes relate to current workforces and workforce plans for the future.
Free movement of labour from the EU to the UK looks certain to end. In both 'deal' and 'no deal' scenarios, the change would be expected at the end of 2020, after which a new immigration system will apply to EU citizens.
The Home Office are slowly rolling out a scheme to enable EU nationals in the UK to apply for either 'settled' status on the basis of having lived in the UK for at least five years, or 'pre-settled' status where they have not yet lived in the UK for that length of time. 'Pre-settled' status will be issued for five years, but the moment a holder of this status has been in the UK for five years (including time before the issue of this current status) they will be allowed to apply for 'settled' status. 'Settled' status means that the individual has a permanent right to live in the UK beyond Brexit.
New applications can be made for those who are resident in the UK before 31 December 2020, although this could be brought forward to 29 March 2019, or whichever date the UK leaves the EU, in the event of a 'no deal'.
Considerations, therefore, should be the level of support offered to EU staff in assisting with these mandatory applications. The deadline for applications is 30 June 2021, although this could be brought forward to 31 December 2020 in the event of a 'no deal'. It is also worthwhile for employers to consider their talent needs for the next two years to plan for new employees to swiftly secure permission to reside in the UK post-Brexit.
Speakers advised assessing current workforces to see which employees might be eligible for either 'pre-settled' or 'settled status' and evaluating how they can be assisted. It is also sensible to evaluate the roles being undertaken by EU nationals at present to assess the impact on the business of a new immigration regime that might restrict the roles being undertaken from talent from the EU.
The future immigration proposals in the Home Office's white paper would bring changes whereby the recruitment of EU nationals from January 2021 would become far more expensive and far more restrictive in relation to the 'skill' level of the job and the salary on offer. Many 'lower-skilled' jobs being undertaken by EU nationals at minimum or living wage would be impossible to offer to workers from outside the UK from 2021.
Therefore, Gareth and Oliver stressed the importance of planning in terms of UK-based roles to assess how they fit with these future immigration rules. It is likely these changes will impact on how companies develop UK talent and/or the location of business operations that require low-skilled EU workers.
To find out more, you can watch this short summary of the presentation:
About ESCP Business School
Established in 1819, ESCP has educated generations of leaders and entrepreneurs. With its six urban campuses in Berlin, London, Madrid, Paris, Turin and Warsaw, ESCP's true European identity enables the provision of a unique style of cross-cultural business education and a global perspective on international management issues. ESCP welcomes 5,000 students and 5,000 executives from 100 different nations every year, offering them a wide range of general management and specialised programmes (Bachelor, Masters, MBA, Executive MBA, PhD and Executive Education). ESCP is among the 1% of business schools worldwide to be triple-accredited (AACSB, AMBA, EQUIS).
More information: www.escp.eu
***
ESCP and the CCFGB will host a Brexit Conference in June, 2019. More details to be announced soon.