On 30th January 2019, ESCP Business School hosted the first round of the international case competition on sustainable development and innovation, organised by the Young Leadership Forum student society.
The Young Leadership Forum's goal is to bring together young and motivated pioneers and leaders to reflect on and propose the solutions to society's most urgent issues. The society focuses on the values of leadership, creativity, innovation and social responsibility. Each year, the YLF organises a competition at four of ESCP's campuses (London, Madrid, Turin and Paris), and invites fellow students from Europe's leading universities to join. The competition opens with the first round taking place simultaneously in each city. The winners are later invited to the Grand Finale in Paris, taking place this year on 8th March.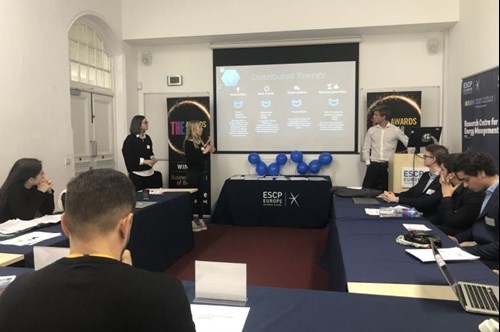 The London Campus hosted five competing groups of students, from ESCP's Bachelor in Management (BSc) and MBA in International Management, and from Imperial College's Master of Science programme. The winners in the first round were ESCP Bachelor in Management students Lina Prencipe and Matteo Marcarino.
The Iberdrola case theme was to design a zero-emission district. Students had to take into account electric mobility, smart energy generation, consumer demand and response (including smart consumer monitoring tools), digitalisation, and distributed energy resources (such as solar panels). Iberdrola gave a real-life case of the city of Bilbao in Spain. After years of depression, Bilbao shifted from being an industrial centre to becoming a modern and revitalised city. Iberdrola based the case specifically on a current project on the small island of Zorrotzaurre, asking students to help design and propose solutions for making the island a zero-emission district.
The Iberdrola Group is the global leader in energy transition and is present in more than 40 countries worldwide. Not only is it the largest energy provider in Spain, but also the global leader in wind energy. It also substitutes the production with toxic sources for clean energies, and is intensifying the necessary decarbonisation and electrification for today's global economy. 
As ESCP enters its Bicentenary, the School celebrates its pioneering spirit of the world's first business school. Maintaining its reputation for innovation and excellence in international management education, ESCP is committed to educating and promoting the leaders of tomorrow through working with forward-thinking and sustainable organisations and offering highly specialised international programmes, including the Executive Master in Energy Management, Executive Master in Digital Innovation and Entrepreneurial Leadership and MSc in Energy Management. 
Lina Prencipe and Matteo Marcarino, the first round winners from the London campus and Bachelor in Management (BSc) students said: "The case study proposed by Iberdrola has been an amazing opportunity for us to test our creativity and knowledge on the central topic of energy. Technologies are the drivers of our society, and sharing ideas on how to apply them is a key step towards a sustainable world - the main goal of the EU 2020 strategy."
Darislav Dikov, ESCP student from a competing team said: "Thank you so much for organising this event. Although I didn't win the competition, that doesn't matter. I've learnt so much on urban sustainability, and I now go home with plenty of ideas on how we could help our cities become zero-emission zones."
About ESCP Business School
Established in 1819, ESCP has educated generations of leaders and entrepreneurs. With its six urban campuses in Berlin, London, Madrid, Paris, Turin and Warsaw, ESCP's true European identity enables the provision of a unique style of cross-cultural business education and a global perspective on international management issues. ESCP welcomes 4,600 students and 5,000 executives from 100 different nations every year, offering them a wide range of general management and specialised programmes (Bachelor, Masters, MBA, Executive MBA, PhD and Executive Education). ESCP is among the 1% of business schools worldwide to be triple-accredited (AACSB, AMBA, EQUIS).
Website: www.escp.eu
ESCP Business School (London) is the Winner of the Times Higher Education UK Business School of the Year Award 2018.
About ESCP Bicentenary
A pioneer for the past 200 years, ESCP can be proud of a large number of innovations (the "case method", the gap year) that have been successfully adopted all over the world. Today it is the only pan-European school, with six campuses in Berlin, London, Madrid, Paris, Turin, and Warsaw, and an associated campus in Luxembourg. Beyond celebrating 200 years of a model that we invented, the whole ESCP community participates in its redesign to implement the world of tomorrow. Throughout the year, hackathons, videos and blogs, conferences, Bicentenary Talks, and the unique European Festival Tour will collectively invent the Business School for the 21st Century. The events will take place on all Campuses and involve all parts of the School's rich international community: Faculty, companies, students, alumni, and academic partners. Find out more here.