The conference will take place on 10th December, 2014 in Brussels and will explore the significant discoveries of natural gas in the Levant basin, particularly in the Leviathan, Tamar and Aphrodite fields. The aim of the event is to foster a stimulating debate and reveal key insights on the latest natural gas developments at international and regional levels.
We are honoured to announce that Henri Malosse, President European Economic and Social Committee and Dominique Ristori,  Directorate-General for Energy - European Commission will be speaking in the 2030 EU Energy Security, the Role of the Eastern Mediterranean Region Conference.
The event is jointly organised by ESCP Business School's Energy Management Centre (EMC), The Greek Energy Forum, Natural Gas Europe and The European Economic and Social Committee.
The EMC will be represented by Director Prof. Patrick Gougeon, who will be speaking at the conference and Executive Director Dr. Kostas Andriosopoulos along with ESCP staff.
Please click here to check the conference programme and speakers list.
The EMC will also be exhibiting at the event, where you can find out more about our energy industry-related business education programmes: the part-time Executive Master in Energy Management, the full time MSc in Energy Management and our series of specialised Advanced Master Classes. 
"The EMC's Mission is to build a strong proactive partnership between academia, industry and government, to debate the challenges of the new energy era."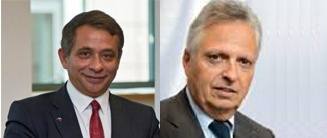 Henri Malosse, President European Economic and Social Committee and Dominique Ristori,  Directorate-General for Energy - European Commission