The event will take place on 16th December, 2014 at the Intercontinental Hotel (89-93 Syngrou Avenue, Athens, Greece) and will be followed by an exclusive dinner.
The conference is jointly organised by the Energy Management Centre (EMC) at ESCP Business School and the Greek Energy Forum (GEF) under the auspices of the Ministry of Environment, Energy and Climate Change, Hellenic Republic, and is supported by Skai.gr.
Please click here to check the conference programme and speakers list.
The EMC will be represented by the Executive Director Dr. Kostas Andriosopoulos along with ESCP staff.
ESCP's EMC will also have a stand at the conference. We encourage you to visit us there and find out more about our energy industry-related business education programmes: the part-time Executive Master in Energy Management, the full time MSc in Energy Management and our series of specialised Advanced Master Classes. 
"The EMC's Mission is to build a strong proactive partnership between academia, industry and government, to debate the challenges of the new energy era."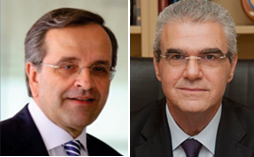 Greek Primer Minister Mr. Antonis Samaras and Makis Papageorgiou, Deputy Minister of Environment, Energy and Climate Change of the Hellenic Republic.