Young talented students from prestigious universities met at the ESCP's London Campus on 22nd & 23rd February to participate in the 2019 School's Energy Trading Challenge.
Jointly organised by our 2019 MSc in Energy Management (MEM) students, in collaboration with Smart Global, ESCP, and its Energy Management Centre (EMC), this year's challenge sponsored by Glencore provided an excellent platform for students to learn key insights on trading oil and gas products.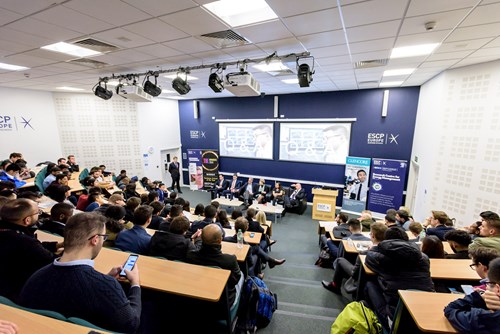 London Campus Dean Prof. Dr Simon Mercado, Prof. Dr Kostas Andriosopoulos, Executive Director of the EMC and Academic Director of ESCP's Energy Management Programmes, and Luke Horswell, Director of Smart Global delivered the welcome remarks.
The EMC is pleased to announce the following key facts of this successful event:
205 attendees representing 23 universities met at the event to share their knowledge, exchange ideas

and compete against one another.

A truly international competition, this event gave students from the most prestigious universities and business schools of Europe, the Americas and the UK the opportunity to participate in a stimulating and thought-provoking two-day event.
On 22nd February, participants benefited from excellent networking opportunities at the drinks reception hosted at ESCP London Campus.
A roundtable on the topic of "What does the future hold for oil & gas markets?" was held in tandem with the event.
Students from ESCP, London Institute of Banking & Finance, London Business School, Cranfield University, University College London, London School of Economics and Political Science - (LSE), University of Sussex, University of Strathclyde, Toulouse School of Economics, CASS Business School, Imperial College London, Instituto Tecnológico Autónomo de México (ITAM), University of Dundee, Université Paris II Panthéon Assas, Université Paris-Dauphine, University of The West of Scotland, King's College London, and many others were awarded for their participation
This year's speakers included:

Cecile Tibi-Rambal, VP Market Risk Management, Total
Gary Middleditch, Co-Head Trader at Arcadia Petroleum Ltd
Eifion Llyr Thomas, Junior Trader / Commercial Analyst, Glencore
Reece Harrison, Naphtha trader, Glencore
Lucie Roux, Senior Writer, Atlantic LNG, Platts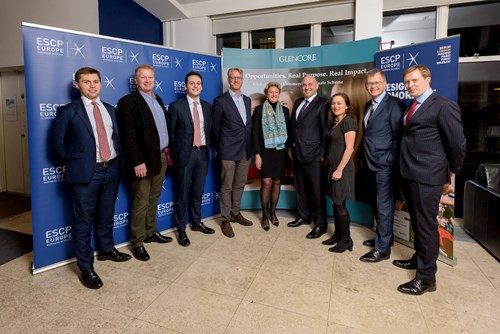 Winning teams
The teams benefited from two days of professionally-crafted trading scenarios representing two full months in the Energy industry. This year, the final results were based on combined relative performance across numerous trading sessions.
Prof. Dr Kostas Andriosopoulos and Luke Horswell announced the top three teams at the end of the second day.
1st place: LIBF Associates Ltd – Zoya Shah, Ahmar Asif, George Jackson, James Wigglesworth and Zoey Denham
The London Institute of Banking and Finance
2nd place: 31 Touch – Nicol Thomas, Lauge Christophe, Daniel Ostalé and Lucas Fabre
Toulouse School of Economics
3rd place: Imperial Alpha – Yu Zhang, Gianpiero Placidi, Adam Isenberg, Shengda Xu and Ernesto Santibanez Borda
Imperial College London 
Other top ten teams include students from: ESCP, London Business School and Cranfield University.   
The full results of the challenge are available here.
ESCP and its EMC would like to congratulate the winning teams on their outstanding performance.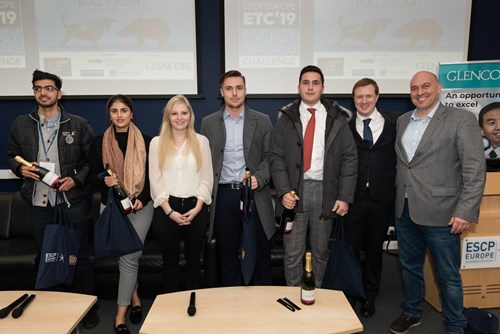 Pictures of the event are available here.
About Glencore
Glencore is one of the world's largest global diversified natural resource companies and a major producer and marketer of more than 90 commodities, with 90 offices in over 50 countries.
The Group's oil business is predominantly based in the heart of the London's West End, New York and Singapore. Key commodities include crude oil and oil products.
We have been involved in the marketing of oil since our business began in 1974. Today, in addition to trading oil products, our oil business, together with our partners, is investing in and developing oil production facilities.
Website: www.glencore.com
Twitter: @Glencore
About ESCP Business School
Established in 1819, ESCP has educated generations of leaders and entrepreneurs. With its six urban campuses in Berlin, London, Madrid, Paris, Turin and Warsaw, ESCP's true European identity enables the provision of a unique style of cross-cultural business education and a global perspective on international management issues. ESCP welcomes 4,600 students and 5,000 executives from 100 different nations every year, offering them a wide range of general management and specialised programmes (Bachelor, Masters, MBA, Executive MBA, PhD and Executive Education). ESCP is among the 1% of business schools worldwide to be triple-accredited (AACSB, AMBA, EQUIS).
Website: www.escp.eu
ESCP Business School (London) is the Winner of the Times Higher Education UK Business School of the Year Award 2018.
About ESCP Bicentenary
A pioneer for the past 200 years, ESCP can be proud of a large number of innovations (the "case method", the gap year) that have been successfully adopted all over the world. Today it is the only pan-European school, with six campuses in Berlin, London, Madrid, Paris, Turin, and Warsaw, and an associated campus in Luxembourg. Beyond celebrating 200 years of a model that we invented, the whole ESCP community participates in its redesign to implement the world of tomorrow. Throughout the year, hackathons, videos and blogs, conferences, Bicentenary Talks, and the unique European Festival Tour will collectively invent the Business School for the 21st Century. The events will take place on all Campuses and involve all parts of the School's rich international community: Faculty, companies, students, alumni, and academic partners. Find out more here.