We are delighted to announce that ESCP Business School and its Energy Management Centre (EMC) will be taking part as Knowledge Partner at the 1st Emirates EVRT organised by Ben Pullen, Founder of the Global EVRT and MSc in Energy Management (MEM) Alumnus. 
Taking place from 29th January until 1st February, the event will bring together government officials, leading academics, industry's practitioners and general public to discuss the latest on sustainable transport, green tech, renewables and the development of the electric vehicle market in the UAE. It will also celebrate the government's vision and initiatives to boost a greener future.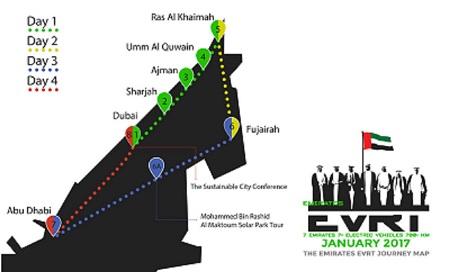 7 Emirates, 10+ Electric vehicles, 700+ KM
The tour will unveil charging stations in Ras Al Khaima,, Fujairah, Abu Dhabi, and Dubai
The fleet includes Tesla's  Model X & Model S,  BMW i3, Renault Zoe and Volkswagen e-Golf
The tour will showcase the best of electric vehicle technology and the region's clean-tech innovations
The trip includes an electric vehicle conference, the event will be held at The Sustainable City, where the electric vehicle industry will be discussed in more detail
Keynote speakers include:
Robert Llewellyn, English TV presenter of Channel 4, Automotive Journalist, Enthusiast of Renewable Technologies and EVs.
The full speaker line up will be announced soon.  Follow the Global EVRT for more updates.
Companies attending include:
EWS-WWF, The Sustainable City, Engie and many others.
ESCP Europe will be represented by UK Director Prof. Dr Simon Mercado, Prof. Dr Kostas Andriosopoulos, Prof. Dr Miguel Palacios, Alumni and current students.
We invite you to visit the event's website for further information.
A detailed itinerary is available here.
A greener future for all
The ESCP community is committed to speeding up the global movement towards a low-carbon economy. We have a responsibility to help prevent run-away climate change.   
Announcing the 3rd ESCP Europe Electric Vehicle Road Trip
We are thrilled to report the third edition of the Electric Vehicle Tour of Europe organised by ESCP's Energy Society, MSc in Energy Management students, Alumni, and the Energy Management Centre (EMC) in partnership with Global EVRT.
The 2017 ESCP Electric Vehicle Road Trip will take place from 25th April until 9th May. The tour will visit 11 European countries and visit five of the School's six campuses(Berlin, London, Paris, Turin and Madrid).
Further updates about this fascinating initiative will be available online soon.
How to participate?
To keep up-to-date on all activities organised by ESCP, the EMC, the Energy Society and our partners we invite you to join the EMC here and check the ESCP website.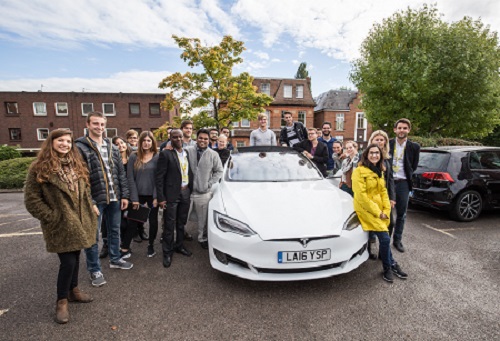 "The EMC's Mission is to build a strong proactive partnership between academia, industry and government, to debate the challenges of the new energy era."