On 18th March 2019 ESCP's London Campus hosted another of its 'Re-Thinking Europe' events, looking at the state of the Brexit process and its impacts.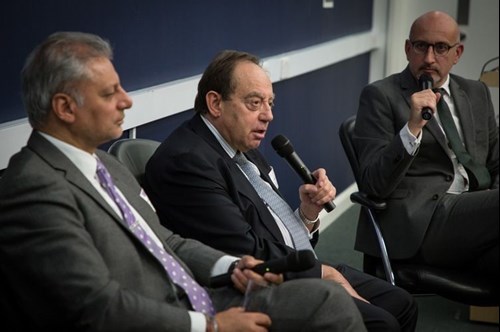 From left to right: Tony Matharu, Lord David Gold and Prof. Simon Mercado
London Campus Dean and Brexit commentator Professor Simon Mercado was joined by litigator and parliamentarian Lord David Gold and by leading businessman, Tony Matharu to examine the latest developments in the Brexit process. Expert interviews were followed with an open Q&A session around the theme of: 'Brexit: Quo Vadis?' Topics discussed during the event included the likely fate of the Prime Minister's Brexit deal; the Irish Backstop problem; and the prospects for both a general election and second referendum. 

The 'Re-Thinking Europe' series was inspired by the late Nicole Fontaine, former President of the European Parliament, who worked closely with ESCP in developing the book, 'Brexit: An Opportunity? Re-Thinking Europe'. Mme. Fontaine's book was at the heart of the School's inaugural event in November 2017. Since then, ESCP has run events at the London campus, in Westminster, and at other ESCP campuses, touching on themes like 'Brexit and Migration' and 'Brexit and Higher Education'.

ESCP students focus closely on EU affairs during their studies, the most high profile example being the yearly Start@Europe seminar within the Master in Management (MIM) programme. This annual event takes around 800 students to the European Parliament in Brussels for a negotiation simulation that is sector-leading. 

The School also works closely with the French Chamber of Great Britain (CCFGB) and its Brexit forum as official sponsor.  

ESCP's London Campus was awarded the prestigious Times Higher Education UK Business School of the Year Award for 2018, in part for its work around the topic of Brexit.