The event took place on 22nd September to celebrate the arrival of the business school's new MSc in Energy Management cohort. They were joined by European Government representatives, participants of the Executive Master in Energy Management, ESCP alumni, and industry professionals.
UK Director Prof Simon Mercado led the opening remarks, introducing ESCP as "The Only Pan European Business School", together with its programmes and innovative research centres: The Energy Management Centre (EMC), The Creativity Marketing Centre (CMC), and The Health Management Innovation Research Centre (HMI). Dr Kostas Andriosopoulos, EMC Director, welcomed guest speaker Guy Broggi.

Guy began by describing the recent developments in the LNG landscape. He highlighted the double effect on LNG prices from crude oil prices in 2014 and the impact of oversupply. He also explored recent trends in LNG imports around the world after the Fukushima nuclear disaster.

The global LNG supply, according to Broggi, shows that Australasian countries will be targeting the North East Asian markets. While the US Gulf of Mexico seems to be a good bet for both Europe & South America, in his view, Malaysia, Chile, Colombia, UAE and Qatar are emerging as serious candidates.

"In Europe, developments of LNG have been significant. Europe and Asia will share flexible supplies for LNG," said Broggi, while "Russia has lost share of the LNG market." In the long-term (beyond 2020), Australasia & Russia seem to be robust alternatives to supply Asian buyers.

The speaker concluded that European buyers may count on 'Flex LNG' from existing hidden LNG, and from contracted LNG exports from the US and possibly Canada.
To take a look at Guy Broggi's presentation, please click here.
To keep up-to-date on all activities at the Centre, we invite you to join our LinkedIn group, Energy Management @ ESCP.
About ESCP Business School
About the Energy Management Centre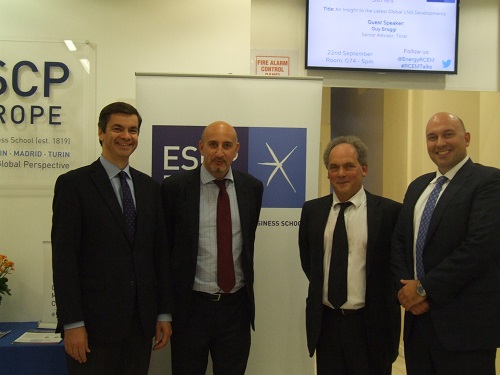 In the picture, (from left to right) Visiting Lecturer Anthony Livanios, UK Director Prof. Simon Mercado, Buy Broggi, Senior Advisor of Total and EMC Director Dr Kostas Andriosopoulos.