ESCP's Energy Management students' international seminar in Washington, DC & Houston, TX took place from 19 - 24th June. This annual study trip was co-organised with the Energy Management Centre and Energy Stream CMG.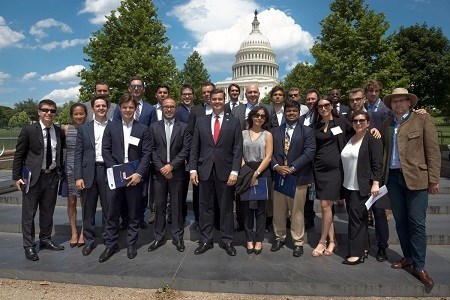 Our MSc in Energy Management students and Executive Master in Energy Management participants gained a deep understanding of the American energy industry from a series of lectures and workshops delivered by top industry leaders. The trip included visits to: University Club of Washington, D.C., U.S. House of Representatives, Ocean Star Offshore Energy Center and San Jacinto Battleground State Historic State Site.
Topics and speakers included:
The Current State of American Energy Industry
Lou Pugliaresi, President, Energy Policy Research Foundation
Prospects and Challenges of American Downstream Industry
Lauren Coughlin, Policy Advisor, American Petroleum Institute (API)
U.S. Department of Defense Perspectives on Energy Sector
Arnold Dupuy, Office of the Deputy Assistant Secretary of Defense, Operational Energy, U.S. Department of Defense
Oil Independents and Free Enterprise
Frederick Lawrence, Vice President, Independent Petroleum Association of America (IPAA)
Geopolitics of U.S-Qatari LNG Trade
Patrick Theros, U.S. Ambassador to Qatar (ret.), President,US-Qatar Business Council
Energy Independence and National Security
Brian Collins , Vice President, Business Executives for National Security 
Renewable Resources Developments in the American Market
Michael Zehr, Vice President of Federal Affairs, HBW Resources    
Current Dynamics of U.S. Foreign Energy Policy
Richard Westerdale, Director of Policy Analysis and Public Diplomacy U.S. State Department
Energy Challenges in the Age of Trump
Gianni di Giovanni, Chairman, Eni USA
U.S. LNG Exports and Global Energy Markets
Bud Coote, Senior Fellow, Global Energy Center, Atlantic Council
Energy Vision of the Trump Administration
George Sifakis, Assistant to the 45th President of the United States and Director for the Office of Public Liaison The White House
U.S. Congress and Briefing on U.S. Energy Policy
Rachel Barkley, Director of Outreach at House Republican Conference, U.S. House of Representatives
Sophia Varnasidis, Deputy Director of Operations, Committee on Natural Resources, U.S. House of Representatives
Andrew Vecera, Staff Director for Subcommittee on Energy and Mineral Resources, U.S. House of Representatives
George Sigalos, Worldwide Govermnet Affairs, The Livingston Group  
Global LNG Overview  
Jason Feer, Head of Business Intelligence, Poten & Partners
Regulatory and Political Risks on Oil and Gas Projects
Ryan Scott, Senior Policy Director, HBW Resources
U.S. Oil and Gas Landscape  
Ken Mariani, President, Enervest
Round table discussion
Prof. Kostas Andriosopoulos, Executive Director, Energy Management Centre (EMC) at ESCP Europe Business School London
Anthony Livanios, CEO, U.S. Energy Stream
Useful Links:
"The EMC's Mission is to build a strong proactive partnership between academia, industry and government, to debate the challenges of the new energy era."