ESCP's Economy 21st Series
Created by the London campus of ESCP, the Economy 21st series of lectures provides a high-profile platform for industry leaders and influential thinkers in the world of business. ESCP has hosted Economy 21st for the last eight years, and was proud to welcome guest speakers covering topics from the fields of Marketing, HR, Finance, Energy and Sustainability.
On Tuesday, 12th March the Economy 21st lecture featured Richard Sadler, CEO and Executive Director of Lloyd's Register Group Limited.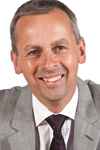 Richard talked from the point of view of CEO of an extremely international organisation that has to deal with business leaders, senior government officials and academics worldwide. He has to cope with the shift of economic and trading power towards the East and towards other Emerging Markets, and the role of UK and European industry in this new environment. As a City of London institution for more than 250 years, Lloyds Register, along with other London institutions, has to constantly transform and change its global strategies to compete and survive.

The lecture was followed by a formal question and answer session, allowing for a lively discussion of the theories presented, and after this a more informal opportunity to mingle over refreshments. 
About our speaker
CEO of Lloyds Register since 2007, Richard has held many roles within the Lloyds Register Group and was a Director at the Royal Bank of Scotland Asset Division. He spent more than twelve years working outside the UK, including periods in Japan and China. He is also the Visiting Professor of Dalian Maritime University (China); Co-Chair of the Marine Industries Leadership Council; a member of the Singapore Maritime Institute International Advisory Panel and a member of the UCL Energy Institute International Advisory Board.
About Lloyd's Register Group
The Lloyd's Register Group is a global independent risk management and safety assurance organisation designed to help clients around the world to achieve their business goals, while optimising safety and quality, and protecting, even improving, the environment.
With its HQ in the City of London, it has offices in 246 locations covering 186 countries and a turnover approaching £1 Bn. Since 1760, Lloyd's Register has worked to enhance the safety of life, property and the environment, at sea, on land and in the air, helping its clients to ensure safe, responsible and sustainable supply chains.