Governments and businesses representatives from various industries have expressed their concerns about the absence of a clearly set framework at this stage. Despite recent progress on the European Union and the United Kingdom talk up chances of securing a deal with the hope to deliver a pragmatic outcome, politicians also plan for a worst case scenario, and advise companies to be prepared for "disruption". 
AS THE GOVERNMENT OF THE UNITED KINGDOM FACES THE FINAL STAGE OF THE BREXIT NEGOTIATIONS, ESCP'S LONDON CAMPUS PROUDLY SUPPORTS THE BREXIT FORUM SERIES – AN EXCLUSIVE MEMBER-TO-MEMBER EVENT ORGANISED BY THE FRENCH CHAMBER OF COMMERCE IN GREAT BRITAIN (CCFGB).
In Picture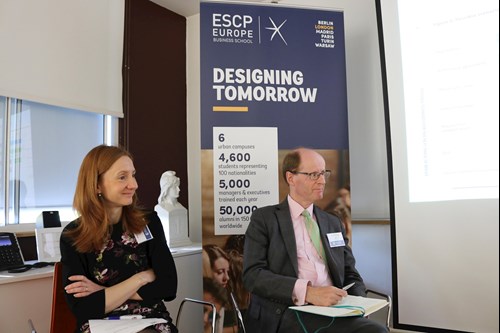 On 31st October 2018, CCFGB members and organisations from the retail, finance, healthcare, legal, energy, consulting, tourism, transport and banking industries came together to discuss the latest on the impact of Brexit, the UK Government's real prospects for a deal, and the potential impact on the UK economy.
Speakers were Bruce Macmillan, General Counsel, Irwin Mitchell and Christian Fatras, Economic Counsellor, French Embassy in the UK. The event was chaired by Angela Hepworth (Corporate Policy and Regulations Director at EDF Energy) and Neil Sherlock CBE (Partner, Senior Adviser of PwC).
Companies attending included:
EDF Energy, PwC, GSK, Total, Atout France / France Tourism Development Agency, Deloitte LLP, Mediobanca, L'Occitane, Consul Général de France, Cripps LLP, ebl miller rosenfalck, French Embassy, Irwin Mitchell LLP, L'Oréal UK, Talan Consulting UK, and many others.
Attendees reflected on the current stage of the negotiations, whether the existing agreements in place such as: EEA, EDA (adopted by Norway, Switzerland, and Finland) can be embraced by the UK, the transition period required, and recommendations given by the French government.
The full report on Brexit and its impact on business done by the French Government and kindly provided by the French Embassy in London is available here.
About ESCP Business School
Established in 1819, ESCP has educated generations of leaders and entrepreneurs. With its six urban campuses in Berlin, London, Madrid, Paris, Turin and Warsaw, ESCP's true European identity enables the provision of a unique style of cross-cultural business education and a global perspective on international management issues. The School welcomes 4,600 students and 5,000 executives from 102 different nations every year, offering them a wide range of general management and specialised programmes (Bachelor, Masters, MBA, Executive MBA, PhD and Executive Education).
More information: www.escp.eu
The next session will take place on 27th November. For more information, visit the Forum's website.