Dr. Kostas Andriosopoulos, Director of ESCP's Energy programmes and the Energy Management Centre (EMC), spoke at the 6th Mediterranean Oil and Gas Conference 2015 – the most exclusive annual commercial conference of the oil and gas industry in the region. The event was held on 25 & 26 May at the Hilton Cyprus in Nicosia, Cyprus and organised by Energy Stream CMG GmbH.
The conference brought together international oil and gas leaders, government decision makers and investors who discussed the upstream developments in Eastern Mediterranean.
Speakers included:
Ioannis Kasoulidis, Minister of Foreign Affairs, Cyprus
Yiorgos Lakkotrypis, Minister of Energy, Commerce, Industry and Tourism, Cyprus
Nikos Kouyialis, Minister of Agriculture, Rural Development and Environment, Cyprus
Wioletta Dunin-Majewska, Directorate General for Energy, European Commission, Belgium
Amit Mor, CEO, ECO Energy, Israel
Adam Hedayat, Vice President, Mediterranean, Middle East and Africa Sea NG Corporation, Canada
And many others.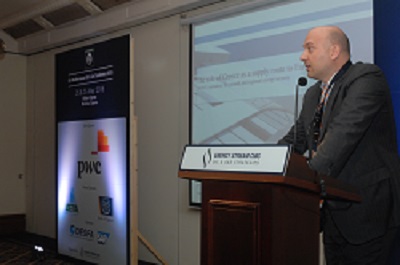 "The EMC's Mission is to build a strong proactive partnership between academia, industry and government, to debate the challenges of the new energy era".