The event took place on Tuesday, 29th October, 2013. It was organised by the French Chamber with the support of the French Embassy and in partnership with the Franco-British Council and ESCP Business School, the first ever Franco-British Energy Conference, with 240 participants, provided a platform for debate and discussion on some of the most pressing issues in the energy sector.
Dr. Patrick Gougeon, Director of ESCP Business School's London campus, was invited to speak at the event. The Energy Management Centre (EMC) @ ESCP was represented by Executive Director Dr. Kostas Andriosopoulos, and affiliate professors Dr. Vlasios Voudouris and Prof. Michael Jefferson.
Timing is everything, and for the Energy Conference to  take place in the week following the deal between the UK Government and EDF Energy on the strike price for nuclear energy, could only be 'a good omen for the future of investment in low carbon energy in this country,' as Richard Brown, Deputy President of the Chamber remarked. But he also alluded to the huge challenges Britain faces to meet its carbon reduction targets and underlined that no single energy source - whether nuclear, wind, solar, energy recovery, biomass, oil & gas, tidal - could deliver this: all have a part to play.
To read the full article please download the file.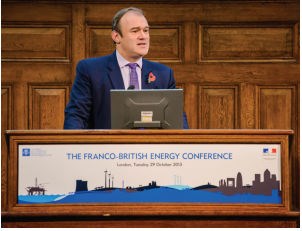 Ed Davey, Secretary of State for Energy and Climate Change