ESCP Business School's first cohorts of Energy Management graduates are spreading their wings across a range of companies, countries and industry sectors. Their success can be attributed to the way the School co-creates the curriculum with its professors, alumni and industry specialists who make up the programme's Advisory Board, ensuring it remains relevant to the needs of the fast growing, dynamic industry.
Companies that recruited the first group of 31 students who graduated in March 2015 from the MSc in Energy Management (MEM) degree programme include EDF, GDF Suez, Total, Schlumberger, Alsa Solar Systems, Ensight Energy, SBM Offshore, Principles for Responsible Investment and Chatham House among others.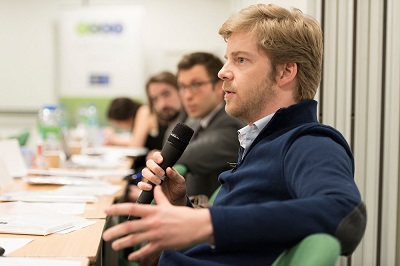 Countries the graduates are working in include the UK and France, the two countries in which they studied, as well as Germany, the United Arab Emirates and the US just to name a few.
As well as their full-time jobs, two of the graduates have even set up an NGO, the Lebanese Oil and Gas Initiative (LOGI), to create a network of experts to promote sound management of Lebanon's oil and gas resources, with help and a place on the advisory board from ESCP.
ESCP launched its 15-month MEM degree, in September 2013 for those wishing to enter or enhance careers in the sector, with a commitment to keeping its course content up-to-date, in line with changing market needs. To achieve this, top faculty maintain regular contact with leaders in the world of energy, drawn from its extensive alumni network and long-standing relationships with institutions across the sector, cultivated through its Energy Management Centre and its Executive Master in Energy Management (EMEM).
Its MSc accreditation from the French Conférence des Grandes Ecoles is a testament to this collective expertise. The programme's Advisory Board includes alumni Klaus Schäfer, CEO of E.ON Global Commodities SE (EGC); Ronan Lory, CFO of EDF Trading, as well as Michael Jefferson, Member of the International Advisory Board, Energy Policy journal; and Angela Knight, ex. CEO of Energy UK.
The programme is taught in English at ESCP's London and Paris campuses, together with an optional one-week seminar in Canada. Students learn about the energy business environment and its fundamental economic and technological concepts. They gain the ability to develop and implement strategies to address major issues in energy regulation and policy, as well as strengthening their ability to live and work in a highly multicultural and international environment. A thesis and 10-week internship round off the programme, ensuring all students leave with 'real' work experience.
In addition, the students benefit from attending the range of conferences and talks organised by the School, the EMC and the ESCP's Student Energy Society, as well as partner institutions such as the Franco-British Council.
The first wave of students established a lively Energy Society at the London campus which organised a trip to the EDF Energy Sizewell B Plant and also a tour of London in Electric Vehicles (EVs) – a launch event for an EV tour of all five ESCP Europe campuses from London to Berlin, Torino, Madrid and Paris, scheduled for 2016.
The programme's Academic Director, Dr Kostas Andriosopoulos said "We are proud of our achievements in creating a degree programme that is clearly making our students highly employable across the international energy sector. The link with our part-time Executive programme and Energy Management Centre (EMC) is strong. The School and EMC hosted a joint graduation ceremony at London's Royal Society for the full-time and Executive programmes to demonstrate the close relationships between us all."
To find out more about the MSc in Energy Management, please click here.
To find out more about the Executive Master in Energy Management, including new access to individual modules, please click here.
Press Contact:
Shireen Fraser, Head of Public Relations – UK
[email protected] / 020 7443 8833