ESCP Business School and its Energy Management Centre (EMC) are committed to speeding up the global movement towards a low-carbon economy. Hence we will be supporting the launch of the first Electrical Vehicle Road Tour (EVRT) in the Middle East, organised by Ben Pullen, Founder and CEO of Global EVRT and MSc in Energy Management Alumnus. We are very proud to support this project and Ben's vision to accelerate both the adoption of electric vehicles and the transition to a lower carbon economy.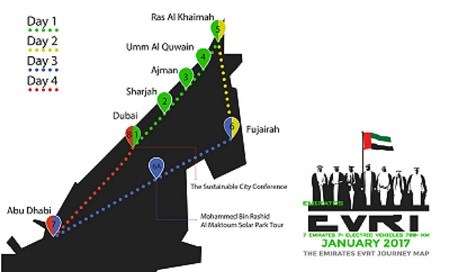 The Emirates EVRT 2017 takes place from 29th January to 1st February and will see 10 electric cars drive around the whole of the UAE with fun and educational events along the way. We are pleased to announce that we are offering for free one place to two of our members of the alumni community, allowing each person to experience half the tour.
The First Ever Electric Vehicle Road Trip in the Middle East, the Emirates EVRT
What's included in the tour:
7 Emirates, 10 Electric vehicles, 700+ KM
The tour will unveil charging stations in Ras Al Khaima,, Fujairah, Abu Dhabi, and Dubai
The tour will showcase the best of electric vehicle technology and the region's clean-tech innovations
The trip includes an electric vehicle conference, the event will be held at The Sustainable City, where the electric vehicle industry will be discussed in more detail
…and a lot more
More information about this fascinating initiative is available here. 
How to participate?

Join the road trip by attending the finale event
Attend the electric vehicle conference
You can join an evening dinner event that gives you the chance to ride in a tesla electric vehicle
Join us for the opening of brand new charging stations and hear from expert speakers on electric cars and sustainability.
You can find more information about the event, programme and the full speaker list here: www.emiratesevrt.com
In attendance will be the Dean of the London Campus, Prof. Simon Mercado, and Prof. Kostas Andriosopoulos, Academic Director of our full-time and part-time Energy Management programmes.  
To celebrate the School's achievements and the start of the EVRT event, we will be hosting drinks at the Sofitel The Palm in Dubai from 18:00 to 22:00 (GST) on 28th January 2017. This is the perfect opportunity to meet, strengthen partnerships and celebrate all our community has to offer.
Address: Sofitel Dubai The Palm Resort & Spa, East Crescent Rd, Palm Jumeirah.
To register, please click here.
Useful links:
ESCP Business School
Executive Master in Energy Management
MSc in Energy Management
"The EMC's Mission is to build a strong proactive partnership between academia, industry and government, to debate the challenges of the new energy era."