On 18th September ESCP Business School and its Energy Management Centre welcomed the 2017 cohort of students onto the unique and innovative MSc in Energy Management (MEM) and Executive Master in Energy Management (EMEM) to the London campus.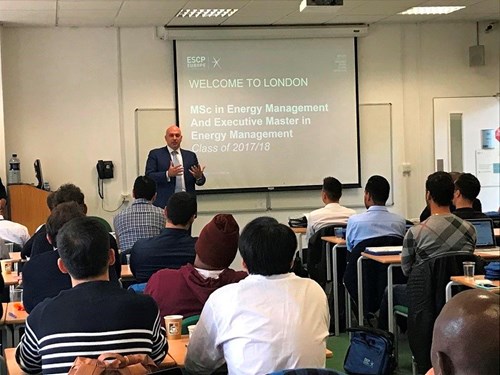 Diversity at its best
40 postgraduate students from 17 nationalities – heard from the Director of ESCP's London campus, Prof. Dr Simon Mercado who shared the School's vision and culture, and announced the start of the programmes at the School's London Campus.
"Our energy management graduates are involved in all sectors of the industry thanks to our world-class education, 360-degree approach, and unique networking opportunities" said Prof. Dr Kostas Andriosopoulos, Academic Director of ESCP's Energy Management programmes.
The energy trilemma
Everyone discusses about the energy trilemma. At ESCP we run a few events on energy security, energy equity, and environmental sustainability at European level which are interesting features of our MSc in Energy Management and Executive Master in Energy Management.
Over eighteen months, MEM students will study at our London and Paris campuses. They will also have the opportunity to attend the one-week international seminar in Washington DC and Houston, TX.
Over twelve months, EMEM participants will study at four of the School's campuses: London, Berlin, Paris and Madrid. Finally, they will visit the United States to gain a deep understanding of the American energy industry from a series of lectures and workshops delivered by top American energy leaders.  
As part of our programmes, the MEM and EMEM students at ESCP will attend the industry's events organised by the Energy Management Centre and affiliates. The conferences feature top industry experts who explore the latest developments in the global energy industry.
About the MSc in Energy Management
The MSc in Energy Management (MEM) at ESCP is an 18-month, full-time postgraduate programme for those aiming towards a career in the energy sector.
Taught in English at our London and Paris campuses and including an optional one-week seminar in the United States of America (Houston, TX), the MEM is delivered by a world renowned faculty and specially selected industry practitioners.

The MEM's objective is to help students understand the energy business environment and its fundamental economic and technological concepts. Participants will gain the ability to develop and implement strategies to address major issues in energy regulation and policy, as well as strengthening their ability to live and work in a highly multicultural and international environment.
Find out more here.