We are delighted to announce that ESCP Business School and its Energy Management Centre (EMC) will be taking part as  Supporting Partners at this year's FT Digital Energy Summit event taking place on 19th September at the Etc Venues St Paul's. The School and Centre will be represented by its Faculty and staff members.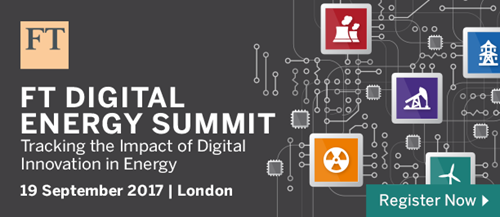 Digital transformation is shaping business models across the energy sector. Digital transformation strategies must be driven from the top and delivering an optimum digital experience is critical. People, processes and technologies should be aligned to build capability and enable transformation across the business. Energy companies need to know how digital tools and platforms can help them engage with customers and employees - particularly millennials, provide value-added interactive services, drive efficiency, and lower costs.
About the FT Digital Energy Summit
The event will bring together over 150 decision-makers from the digital energy community, including market dominators, brand challengers, innovators and cross-industry thought leaders, to share and discuss the impact of digital on transforming business models and the future direction of digitalisation.
Key sessions at this year's event include:
Future outlook: How will digital continue to impact the future worker and workplace and what will they look like?
Scoping the future of the energy sector: Scoping the impact of digitalisation on current and future business models within the energy sector
Thought leadership: How to create digital experiences that transform the relationship between brand, consumer and employees
Digital dialogue: Managing disruption internally: How can people, processes and technology be aligned
360 degree panel discussion: What are the next steps for big data?
Putting the customer first: Enabling customer-driven design thinking
How can we attract millennials to the energy sector and how do we position and communicate digitally to make that happen?
Utilising machine learning, or artificial intelligence, to enable new business models and services
Win a complimentary pass to attend the event
We are offering for free one delegate ticket to our alumni members. If you would like to attend the event, please register your interest here.
If you would like to take part of this exciting event, EMC members, students and alumni can claim a 10% discount using the code EMC10. To claim your discount click here.
You can find more information about the FT Digital Energy Summit and the full speakers list here.
***
About ESCP Business School
Established in 1819, ESCP has educated generations of leaders and entrepreneurs. With its six urban campuses in Berlin, London, Madrid, Paris, Turin and Warsaw, ESCP's true European identity enables the provision of a unique style of cross-cultural business education and a global perspective on international management issues. The School welcomes 4,600 students and 5,000 executives from 102 different nations every year, offering them a wide range of general management and specialised programmes (Bachelor, Masters, MBA, Executive MBA, PhD and Executive Education).
 ***
About the Energy Management Centre (EMC)
The EMC's Mission is to build a strong proactive partnership between energy corporations, government agencies, and the academic community, in preparation for a new energy era. This is achieved through the promotion of rigorous and objective empirical research on issues related to energy management, finance, and policy, in order to support decision-making by both government and industry. The results of EMC's research become available to the public through publications, workshops and conferences, educational programmes and other public outreach activities. Research at EMC is enhanced through direct cooperation with government agencies, and academic and industry associates from across the globe.