"The ESCP community is committed to speeding up the global movement towards a low-carbon economy. We have a responsibility to help prevent run-away climate change."
We are thrilled to announce the third edition of the Electric Vehicle Tour of Europe organised by ESCP's Energy Society, MSc in Energy Management students, Alumni, and the Energy Management Centre (EMC).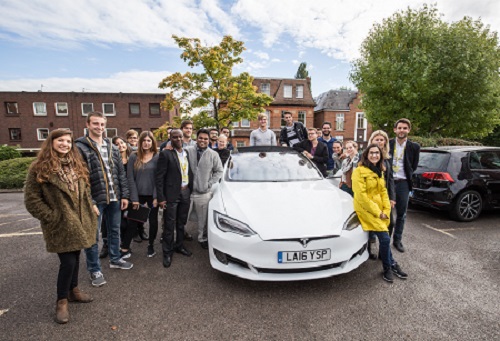 The 2017 Electric Vehicle Road Trip (EVRT) will visit five of the School's six campuses (Berlin, London, Paris, Madrid and Turin), crossing eleven international borders between 25th April and 5th May. The tour will include visits to select sites along the way, including Tesla's factory in the Netherlands.
The two-week journey will take place in high-end electric vehicles, allowing participants to travel across the continent using clean technology that does not compromise on comfort and performance.
Electric vehicles – Turning niche into mainstream
The EVRT's key aim is to show that electric vehicles are perfect for long-distance travel.
Upon arrival of the team to the five ESCP campuses, each location will host thought–provoking discussions on topics such as:
The latest in electric vehicle technology
Energy efficiency
Renewables and their key role across the globe
Climate change
The energy landscape in Europe
The objective is to boost responsible decision-making by companies and consumers; as such, each conference will be open to the general public.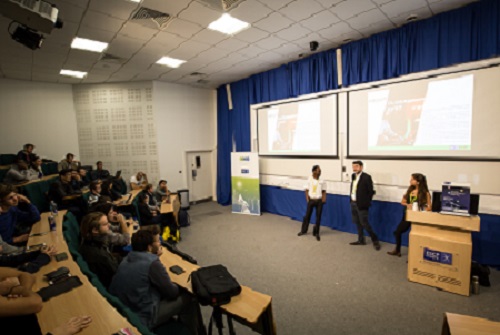 Previous successes
The first edition of the ESCP Electric Vehicle Road Trip was launched in London in 2015 and proved a great success. The tour gave two teams of MSc in Energy Management students and Alumni the experience of handling, charging and monitoring an EV's performance.  
The 2015 trip used Nissan Leaf electric cars and visited famous sights across the capital.
In 2016, the ESCP Energy Society organised the second EVRT. The tour visited seven European countries and four of the School's six campuses (Berlin, London, Paris, and Turin).
This fascinating initiative was founded during the 'Electricity & Renewables Markets' module of the MSc in Energy Management. "We want the future industry leaders to be involved this activity," said Ben Pullen, a graduate of ESCP's MSc in Energy Management programme.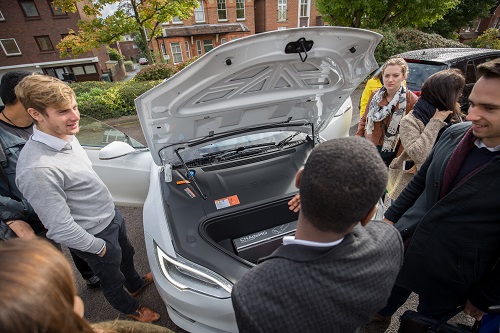 To keep up-to-date on all activities by and/or supported by ESCP Europe, the EMC and the Energy Society, we invite you to join the EMC here and check the ESCP website.
You can also follow the EMC on Facebook, and LinkedIn.
Useful links:
ESCP Business School
MSc in Energy Management