Young talent from prestigious universities met at the ESCP's London Campus on 24th & 25th February to participate in the 2017 Energy Trading Challenge.
105 students from ESCP Business School, London Business School, Imperial College London, University of Sussex, University of Birmingham, IFP School, London School of Economics and Political Science and Toulouse 1 Capitole University were awarded for their participation, and the top three teams were announced at the end of the second day.
Prof. Kostas Andriosopoulos, Academic Director of ESCP's Energy Management Programmes; Martin Read, Managing Director of Smart Global; and Luke Horswell, Developer of the Simulation and Director of Smart Global announced the winning teams at the end of the second day, with ESCP and LBS teams taking the top three positions.
1st place: Goodfellas Team - Dustin K.H.GOH & Sreenivas Rathnasabapathy
London Business School
Profit loss: $173,907,090


2nd place: Crude Lads Team - Corentin Bardon, Antoine Loth, Adi Saric Peter Goitanich
MSc in Energy Management students, ESCP
Profit loss: $93,027,568


3rd place: Future MEM Masters Team - Saxton Monteith & Mateusz Ciasnocha
MSc in Energy Management students, ESCP
Profit loss: $88,346,232

The full results of the challenge are available here: http://energytradingchallenge.com/Home/Results
ESCP Business School and its Energy Management Centre (EMC) would like to congratulate the winning teams on their outstanding performance.
Pictures of the event are available here.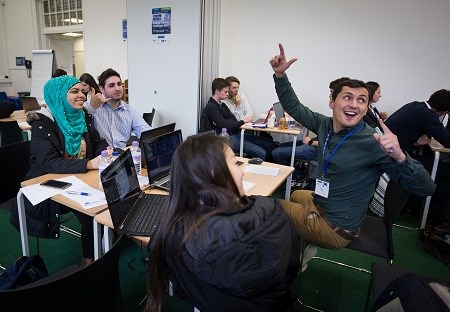 About the Energy Trading Challenge

The Energy Trading Challenge is a competitive team event open to talented students from the world's top universities. It was organised in 2017 by MSc in Energy Management (MEM) students, in collaboration with Smart Global, ESCP, and the EMC.
To check the upcoming activities organised by the ESCP Energy Society click here.
"The EMC's Mission is to build a strong proactive partnership between energy corporations, government agencies and the academic community, in preparation for a new energy era"