As the UK government moves into a key phase of work on Brexit, ESCP's London Campus has commenced its year long sponsorship of the high impact Brexit Forum linking member organisations of the French Chamber of Commerce in Great Britain.
Campus Dean, Professor Simon Mercado remarks: "through this established mechanism for member engagement, the Chamber is providing our sectors and organisations with great insight and an environment through which we can share intelligence and discuss collective action on this major development. It is absolutely fitting that ESCP, which has had a strong voice on Brexit, associates itself as sponsor with this key CCFGB Forum".
About the Brexit Forum
Taking place in London at the French Chamber of Commerce premises, the discussions provide guidance and best practice advice for Franco-British businesses. To date, meetings have helped participants to assess developments and strategies around this crucial topic and to benefit from legal input. The forum is aimed at Heads of BREXIT Task Forces, Heads of Strategy, Heads of Corporate Affairs in charge of BREXIT and others with associated responsibilities.
In Picture
In its most recent meeting on 7th February 2018, the Brexit Forum brought together business representatives from the transport, construction, retail and energy industries to look at the question of regulatory alignment post-UK EU membership. Forum Chair Angela Hepworth (Corporate Policy and Regulation Director at EDF Energy) was joined by Professor Simon Mercado (ESCP Europe) and speakers Geoff Skingsley (L'Oréal) and Olivier Morel (Cripps), Vice President of the French Chamber of Great Britain.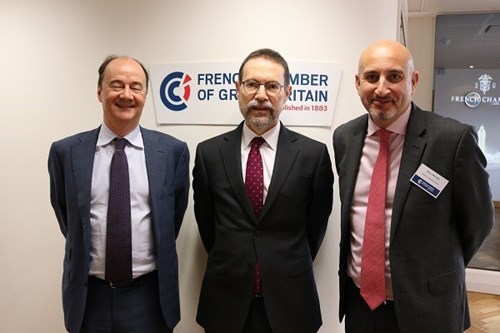 Companies attending included:

EDF Energy, Cripps LLP, L'Oréal UK, ESCP Europe, Deloitte LLP, AS 24 Fuel Card, Gide Loyrette Nouel LLP, Embassy OF France in the UK, Société Générale, Brand Response, Pernod Ricard UK, Irwin Mitchell LLP, VINCI Construction Grands Projets British Isles, Safran UK, Sopra Steria, Air France - KLM and many others.
The next Brexit Forum will take place on 11th April, further updates will be announced soon. Stay tuned!
How to attend
Attendance is by invitation only. Register your interest with Ophélie Martinel.
About the French Chamber of Commerce in Great Britain
Established in 1883, the Chamber is part of a network of 120 French Chambers of Commerce Abroad (CCI France International) and is one of the top French Chambers worldwide. Their main aims are to provide a platform for exchange and networking at the service of Franco-British firms in the UK, to promote their members' interests to key decision makers and to help develop economic and commercial relations between France and the UK. The size of their network and its diversity - 600 members ranging from Start-up & SMEs to blue-chip companies, with 40% non-French representatives - contribute significantly to their reputation and success. Their Company Set up, Business Centre and Recruitment services provide both British and French companies with a large range of bespoke professional services. The 100 events they organise every year, with personalities from the British and French political, academic and business worlds, offer great opportunities for their members to expand their network of contacts and develop their business.
More information: www.frenchchamber.co.uk
About ESCP Business School
Established in 1819, ESCP has educated generations of leaders and entrepreneurs. With its six urban campuses in Berlin, London, Madrid, Paris, Turin and Warsaw, ESCP's true European identity enables the provision of a unique style of cross-cultural business education and a global perspective on international management issues. The School welcomes 4,600 students and 5,000 executives from 102 different nations every year, offering them a wide range of general management and specialised programmes (Bachelor, Masters, MBA, Executive MBA, PhD and Executive Education).
More information: www.escp.eu