We're joining forces with our friends at Adventure Uncovered Live to offer you a discounted rate for their next event in London on 30th October!

Adventure Uncovered is committed to accelerating social and environmental awareness and change through remarkable and responsible adventure.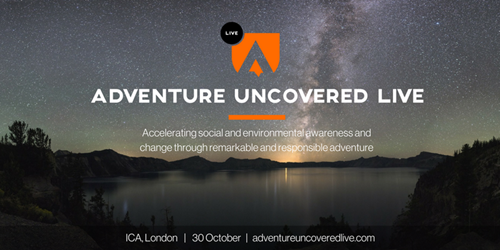 Overview
Adventure Uncovered Live will bring storytelling to life, sharing inspirational stories and journeys that help us better understand social and environmental issues, requiring our urgent attention and action. The event will allow participants to understand complex issues in a simple, fun and engaging way through the vehicle of adventure, inspiring attendees to plan their own responsible adventure and take steps towards positive change.

In a disruptive, rapidly changing world it's time to start new discussions, question traditional perspectives and stimulate engaging conversations that create a platform for change, challenging the adventure community status quo – bold in spirit and courageous in action, whilst remaining adventurous at all times.
We want to see more diversity, equality and ordinary non-adventure professionals to do the extraordinary as everyone — regardless of race, gender, ethnicity, or socioeconomic status — should have the opportunity to experience and thrive in nature and the environment.

Speakers include:
 
Andy Middleton, Founder & Director, The TYF Group & Founding Partner, Do Lectures
David Jones, Executive for Business and Sustainability, Plastic Oceans Foundation
Jo Royle, Founder, Common Seas
Louise Edge, European Campaign Coordinator, Greenpeace
Adam Hall, Head of Sustainability, Surfdome
Ellie Mackay, Award, winning filmmaker specialising in conservation, healthcare and education documentary worldwide
Fearghal O'Nuallain, Educator, Explorer, Teacher
Shane Winser, Head of Exploration, Royal Geographical Society (RGS)
Oliver Steeds, Founder, Chief Executive and Mission Director, Nekton
Cal Major, Founder, Paddle Against Plastic
Martin Dorey, Founder, 2 Minute Beach Clean   
Alice Gartland, Independent Consultant, Social Entrepreneur, Open Water Swimmer, Writer and Water Advocate
Alex Staniforth, Adversity Adventurer
Matt Fenton, CEO, Inspired Ventures 
Becky Horsbrugh, Foreign News Journalist, Associated Press & Outdoor Swimmer
Ian Finch, Wilderness Guide, Photographer, Cultural Researcher
Jody Daunton, Co-Founder and Creative Director, Another Escape.

Sessions:

- Shifting the Dial: Adventure, Crisis & Change Inspired by Nature
- The Adventure Community Working Toward a World Free of Plastic Pollution
- Taking Action: Sustainability and Empowerment in Everyday Life
- Social Impact and Change through Responsible Adventure
- Adventurers for Conservation: Protecting our Pristine Environments through Creative Awareness and Action.

Registration

By using the link below you'll save £5 on your ticket - what are you waiting for?
https://www.eventbrite.co.uk/e/adventure-uncovered-live-registration-36652049266?discount=AULESCP5

More info about the event is available on the link below: www.adventureuncoveredlive.com
***
About ESCP Business School
Established in 1819, ESCP has educated generations of leaders and entrepreneurs. With its six urban campuses in Berlin, London, Madrid, Paris, Turin and Warsaw, ESCP's true European identity enables the provision of a unique style of cross-cultural business education and a global perspective on international management issues. The School welcomes 4,600 students and 5,000 executives from 102 different nations every year, offering them a wide range of general management and specialised programmes (Bachelor, Masters, MBA, Executive MBA, PhD and Executive Education).
***
About the Energy Management Centre (EMC)
The EMC's Mission is to build a strong proactive partnership between energy corporations, government agencies, and the academic community, in preparation for a new energy era. This is achieved through the promotion of rigorous and objective empirical research on issues related to energy management, finance, and policy, in order to support decision-making by both government and industry. The results of EMC's research become available to the public through publications, workshops and conferences, educational programmes and other public outreach activities. Research at EMC is enhanced through direct cooperation with government agencies, and academic and industry associates from across the globe.