We would like to congratulate Mateusz Ciasnocha and Akul Raizada, MSc in Energy Management (MEM) Students, for being selected to speak at the "Youth Day: Dialogue of Generations" part of the 7th St. Petersburg International Gas Forum (SPIGF-2017).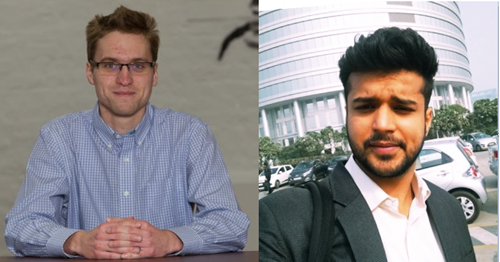 Taking place on 3rd – 5th October, 2017 at the EXPOFORUM Convention and Exhibition Centre, the event will bring together talented students from different countries, top-ranked field specialists and young leaders of international energy companies, scientists and world-class academics to identify new vectors of the gas industry development and the career opportunities for talented young people.

Their achievement can be largely attributed to the innovative approach the School co-creates the curriculum with its professors, alumni and industry specialists who make up the programme's Advisory Board, ensuring it remains aligned to the needs of the fast growing, dynamic industry.
About the Youth Day: Dialogue of Generations
The Youth Day is a great opportunity for students interested in a career in the gas or energy sectors to express their leadership and professional skills and to communicate with top representatives from the leading energy companies in the world.
 
The Youth Day program includes various activities implemented in interactive or competitive format. Participants will have series of meetings and panel discussions on various topics. Particular attention will be paid to the career opportunities and the attractiveness of the industry from the student perspective.
 
They invite master students up to 25 years old to apply in a chance to become an official participant of Youth Day. Selection of participants is made by the results of individual task and is carried out by an international expert commission (jury), formed from representatives of industry companies, organizations and universities that all are the partners of the Youth Day.
About the MSc in Energy Management
The MSc in Energy Management (MEM) at ESCP is an 18-month, full-time postgraduate programme for those aiming towards a career in the energy sector.

Taught in English at our London and Paris campuses and including an optional one-week seminar in the United States of America (Houston, TX), the MEM is delivered by a world renowned faculty and specially selected industry practitioners.

Find out more about the MEM programme here.
Online Info Session
If you would like to know more about the school and its Energy Management programmes, we invite you to register for our next info session on 19th October at 4.00pm (UK Time).

Register here.