ESCP Business School and its Energy Management Centre (EMC) are delighted to announce that our fifth fourth cohort of MSc in Energy Management students recently elected the board members of the School's Energy Society.
The Board provides leadership for carrying out the Society's activities and engage ESCP students in industry related events, maximise networking opportunities and help them develop professional skills through a range of activities:
Panel discussions and debates led by top experts
Promotion of energy related initiatives and latest developments in the industry
Collect and share energy related articles and publications through social media to promote constructive discussion among its participants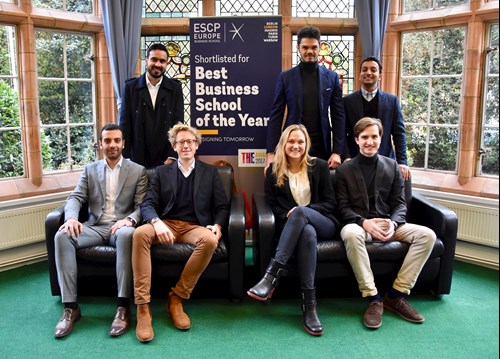 Board Members
President: Camilla Pollet
Vice Presidents: Quentin Laroche, Simone Quarta, Sébastien Mo Costabella
Treasurer: Rafael Moreno Ome
Secretary: Drashya Goel
Communications and PR: Alexandre Lorot
Upcoming Activities
2018 ESCP Europe Energy Trading Challenge
Taking place on 22nd and 23rd February, this competitive event will bring together students from the top business schools and universities around the world.  To find more information, please click here.
Plant Visit
Our MSc in Energy Management students will visit a UK – based energy plant in January, 2018. The visit will help participants to gain a deep understanding of the energy business environment and its technological concepts. More details will be announced soon. Stay tuned!
2018 Youth Gas Forum
The Youth Day is a great opportunity for top students interested in a career in the gas or energy sectors to express their leadership and professional skills and to communicate with top representatives from the leading energy companies in the world. For next year's forum, our students are aiming to represent the United Kingdom in this fascinating event.  
2018 ESCP EVRT
Taking place in May and June, the 4th edition of the ESCP Electric Vehicle Road Trip - an event in cooperation with Global EVRT - will include a Series of E-Mobility conferences and roundtable discussions in major European cities. More details to be announced soon.
2018 Energy Outlook -Ted Conference
Our ambitious students are determined to make an impact in the industry. Next year, the ESCP Energy Society will invite top energy professionals to discuss the latest developments and opportunities available in this fascinating but also dynamic industry.  
The Energy Society is based at the ESCP London Campus and it is open to all students, alumni and academic staff at the School.

To keep up-to-date with the upcoming activities, we invite you to check the EMC website and follow the student association on Twitter: @ESCPEnergySoc and Facebook ESCP Energy Society.
"The EMC's Mission is to build a strong proactive partnership between energy corporations, government agencies and the academic community, in preparation for a new energy era".